Blackville Rec Council Hosts Outdoor Basketball/Pickleball Courts Grand Opening
/
Posted on: October 3, 2023
/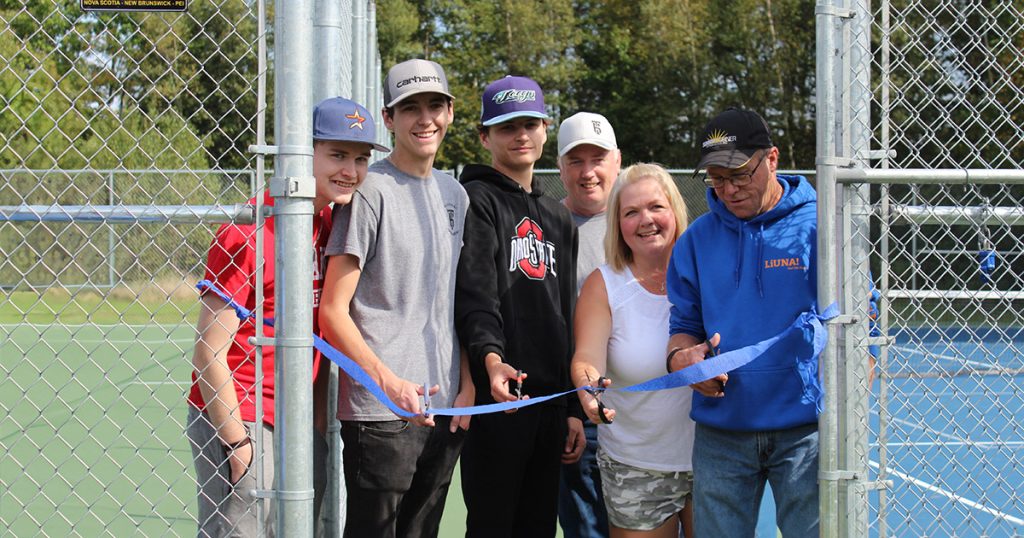 The Blackville Rec Council hosted the grand opening of the outdoor basketball, tennis and pickleball courts on Saturday, September 23. President Allan Furlong welcomed the crowd before inviting participants to join in on the singing of O Canada, led by Chloe Furlong. Former Rec Council President Ian Fortune spoke and thanked the community for their fundraising efforts and support.
This project had started when four community youth approached the Blackville Village Council in August 2017 to discuss the possibility of a basketball court in the village. The local boys, Mason Donahue, Thomas Dunn, Jaden Vickers and Keaton Walls, spoke in front of then-Mayor Christopher Hennessy and councillors Amanda Brennan, Ian Fortune, Cindy Ross and Cindy Underhill. After several years and major community fundraising and government grants, the project became a reality as construction began in the summer of 2022.
Mason Donahue, Keaton Walls and Ian Fortune joined the family of the late Thomas Dunn: Dawn, Harry and Aaron, to cut the ribbon and officially open the outdoor facility.
The dual courts are located at the old Blackville fairgrounds, 5 Underwood Drive, adjacent to Blackville Ball Park / Centennial Field. The courts are open daily from 7:00am until 9:00pm.
View photos from the event below. Click an image to enlarge.